New care delivery pathways
Reducing incidences and severity of delirium
Delirium is a change in mental status that often goes undetected and untreated and that can result in a number of negative outcomes for patients. One in four non-ICU patients acquire delirium during their hospital stay. Studies show that 30-40% of hospital-associated delirium is preventable but comprehensive programs to decrease delirium are frequently lacking. 
---
The Clinical Innovation Center was embedded in a team comprised of a geriatrician, a neurologist, a hospitalist, a nurse practitioner and a pharmacist to create and implement a comprehensive delirium care pathway in 15 adult acute care units. The success of the implementation required the inter-disciplinary coordination of over 1,000 nurses and 25 medical specialties, pharmacists, occupational therapists, physcial therapists, patient care assistants, volunteers, and families.  
---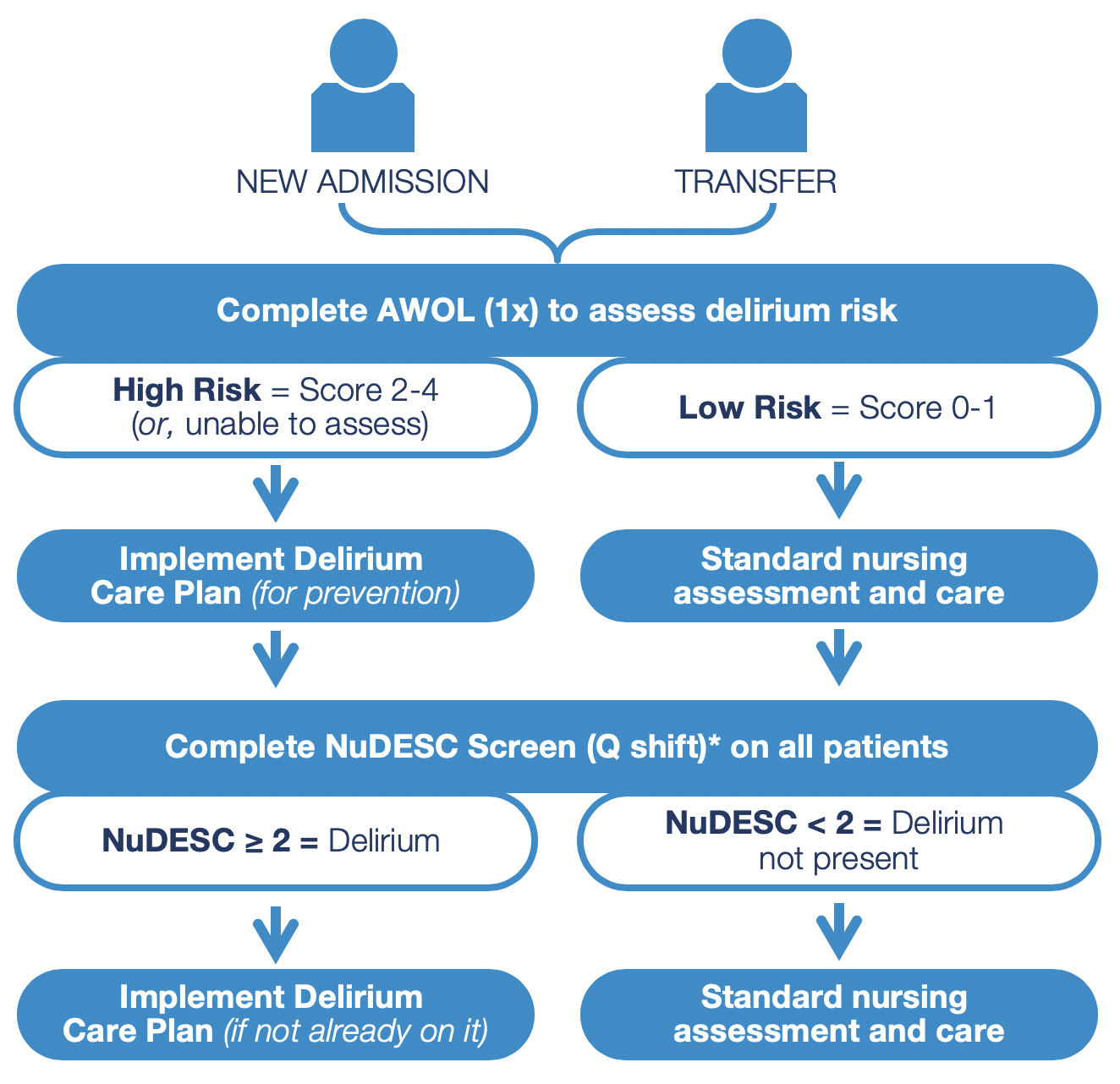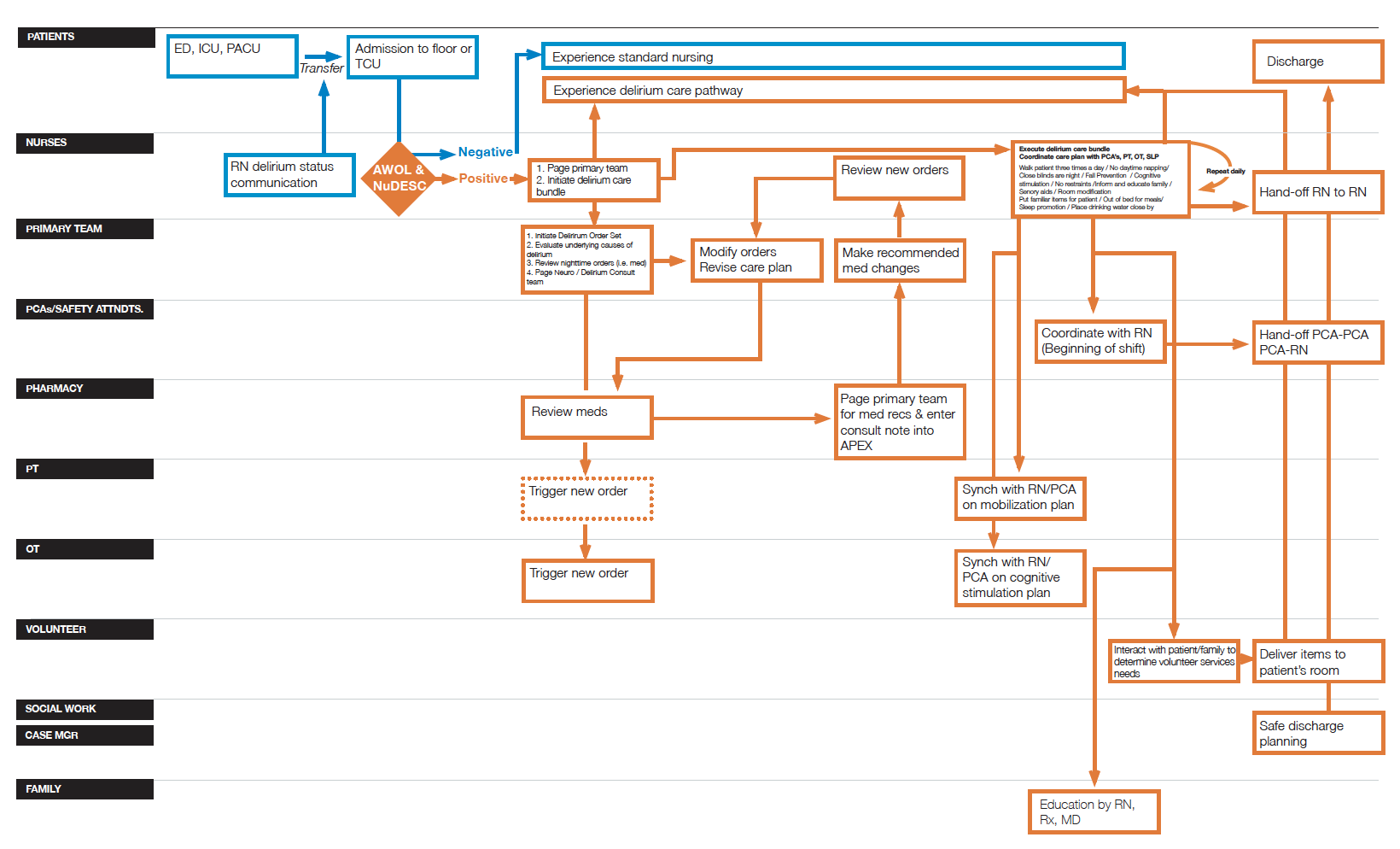 The team adopted a rapid prototyping mindset applying learnings from one unit roll-out to improve the next one.
Over the course of the 18 month rollout many activities and interventions were tried out to educate, shift beliefs about delirium, and track performance. Not all were operationalized.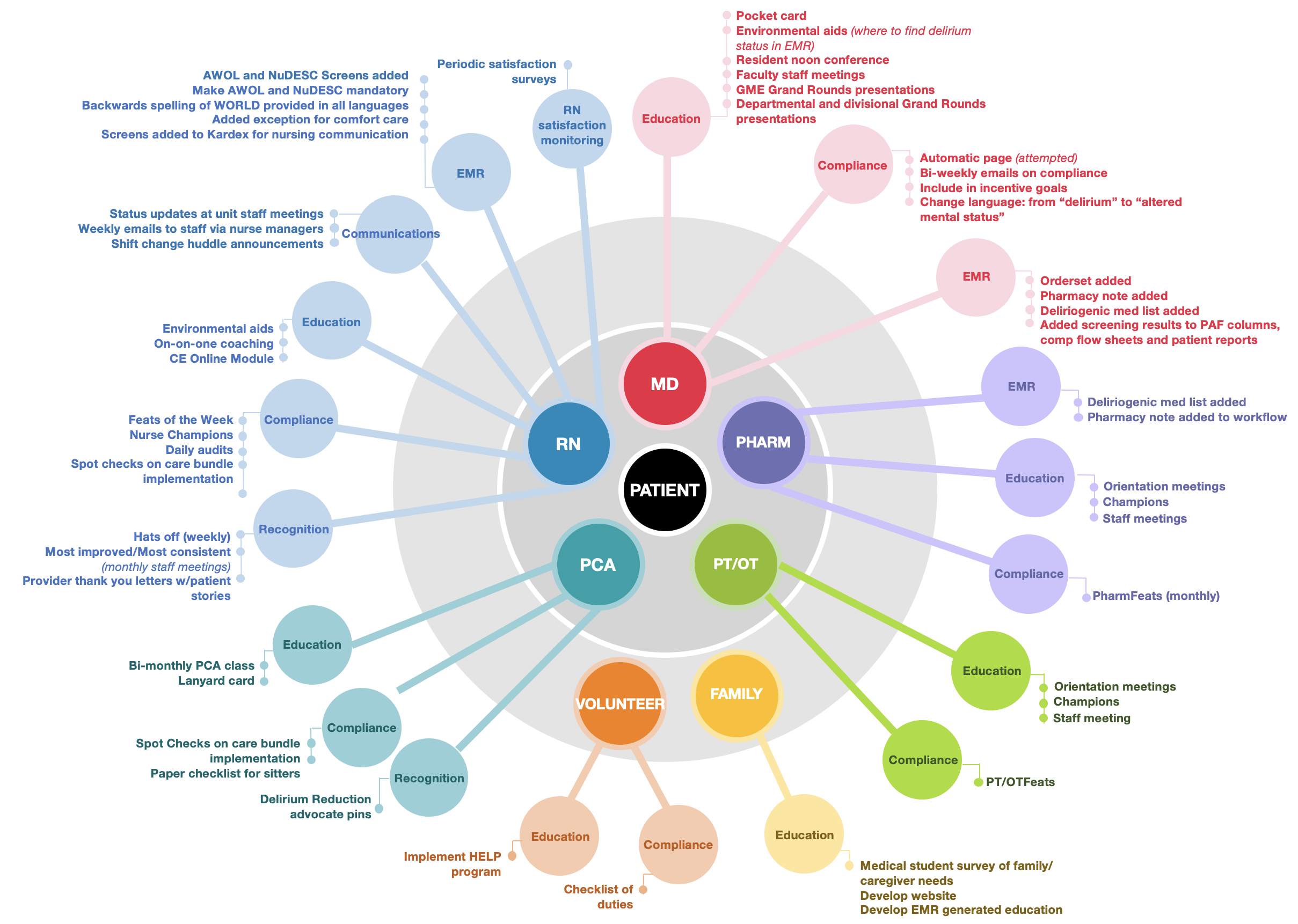 ---
Delirium days and length of stay (LOS) are key metrics being used to measure impact.
---

---
New patient experiences
Enhancing the patient education experience to improve surgical understanding
Perioperative pathways attempt to standardize care, improve surgical outcomes and enhance the patient experience before, during and after surgery. At UCSF Health, a key barrier to perioperative pathway adherence is mismatched expectations among providers, staff and patients across the care continuum. 
---
CIC service designers conducted an in depth discovery phase to understand the human and system factors associated with the current approach to setting expectations, particularly within the context of patient education. Design principles derived from this phase of work guided the redesign of the educational experience to improve cognitive processing and uptake while reinforcing the patient's role in their own recovery. A framework was developed to provide a consistent approach to structuring information across all surgical pathways.

New services
Re-designing care for patients with chronic back and neck pain 
Back and neck pain are complex conditions. Once it becomes chronic it can be managed--but rarely cured.  Psychological and social factors are more powerful predictors of outcome than imaging findings. The wide variation in referrals and treatments of patients with back and neck pain results in patients receiving fragmented, sometimes low value care and a suboptimal service experience. 
---
CIC service designers were enlisted to support the Department of Orthopedics in developing a de novo non-operative spine service. Working with physiatrists, physical therapists, pain management specialists and primary care physicians a service blueprint was created to show what the new service might look like. 
The CIC team drove the development of the new workflow and associated operational changes along with the onboarding of clinic staff to fully implement the service at two locations in January 2018.